Animals have emotions
just like people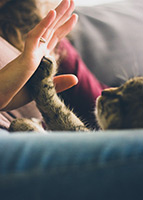 Understand & alter
bad behaviors
We can do this together by releasing trapped emotions
People consider their pets as their children. There are more animals in homes, cars, and purses than ever before. The connection we have with animals is strong, but there is something that we cannot see but have the intuition for…their inner selves.
You can see it in their eyes. They have memories too – they have lived lives too. They are who they are because of the lives they have lived just as we are. And also just as we have, they have been through traumas, depressions, separation anxieties, loneliness (that is until you get home) and have the same emotional goals that can get shot down by another person they have contact with. These are like: "am I good enough", confusion about my "job" in the house, "why does she/he treat me like this?" and of course, FEAR and EGO.
Got your pet from the pound? Think on this: Who had them before? What happened at that house? Why leave? Why run? It might be as simple as the gate was open…or not. And when in the pound, the anxiety of being in a cage – scared, alone and with all those other dogs barking around you. Those emotions stick with you. Make you behave a certain way – lash-out a certain way. Get in trouble all over again and get put back in that cage that may lead to the end.
When testing
animals for trapped
emotions, you see that animals
DON'T
pretend.
This seems all depressing and unrealistic for some pet owners because they were brought home as puppies and have the perfect life. Either way, we can work to identify and correct any imbalances. We'll work towards finding out what they can't explain – those hidden, trapped emotions. Do you remember a certain situation in your life that has made you act differently? Well, pets can react that same way to situations.
The above situation sounded like dogs and cats but there are other animals that benefit from this stress release and healing too: horses. Most horses lead easy, relaxing lives. However, some may have performance anxiety for activities like barrel racing, jumping and other competing events. Horses that shy away from kids, bite or cannot be ridden at all may have trapped emotions from a traumatic event. No matter how insignificant it seems to us, horses (and all animals) can trap these emotions away, causing them to be filled with a range of emotions – scared, unloved, insecure in their skills or themselves, even grief and loss…
Let's fix these issues together!
And peel back those layers to have your pet (however big or small, common or unique) be the best version of itself. Releasing them from those fears, past traumas, grief, etc.
Book your appointment today!
Give your pet the peace they need
break the bonds holding them back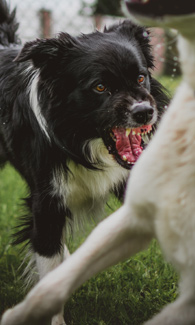 Dog bites/injuries accounted for
+ 1/3rd
of all homeowners
liability claim dollars paid
out in 2017, costing almost $700 million.
How do you know?
If you are an animal-lover, you already know that your pets have feelings that they certainly can't talk to you about, but you know their changes of emotion. And you know it can be expressed very clearly. You also know that he or she can feel sadness, anxiety or grief, too – just like you can.
Releasing those trapped emotions is essentially no different than releasing trapped emotions from a person. I will connect directly to the animals' subconscious mind, through a surrogate – you. Once an energetic connection is established, I will test you for answers just the same as if I were working on you individually. Be ready to hear about instances that bring about these trapped emotions, and understand that after these emotions are released, it may take a couple of days for the animal to process these changes. Be patient and watch the change unfold.
I have treated several dogs, a few horses and other family pets.
One pet in particular had profound results.
This dog was a rescue so there was no owner's history on her. I found that the dog was very frightened of people coming to the door. She would bark very loudly and incessantly to then run and hide when the door was opened. After one session, it was reported that the next time someone came to the house, she did bark a little until the owner opened the door. She then stood by the owner for a few seconds, then turned and walked away to their living room. This visitor had been to the house before when the dog would continuously bark, and commented on the change in her aggressiveness. This dog was cleared of the feelings of confusion with her role in the house, loneliness because of the lack of attention, and a broken heart because of the certain kind of treatment she was getting from a human family member. It surprised the owner to hear these things (I generalized them here, but they were more detailed for this family).
Once you hear how the animals are feeling, you can try to make things better for the future with little changes here and there. What a difference in your lives it will be.
I offer a single session among my package sessions and recommend a minimum of 4 sessions to give your pet an opportunity to experience this safe, enlightening, and gentle form of releasing energy blocks. Once purchased, these sessions
do not expire
, and you may add additional sessions as you experience the benefits of this gentle healing.
Let's peel back some of those unwanted layers. Let's work on getting your pet back to his or her best self.
Disclaimer
Animal Body Code Therapy is not a substitute for professional advice or treatment. If you are concerned about your health please seek medical advice from your medical provider. Energy healing promotes harmony and balance within, relieves stress and supports the body's natural ability to heal. Energy healing is widely recognized as a valuable and effective compliment to conventional medical care.