Nano Wand
What is an appointment like?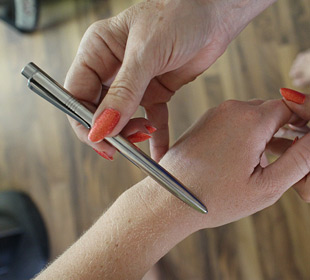 First, schedule an appointment using the booking form by picking whichever available date and time works best for you.
An email will be sent to you containing details and the necessary forms.
So we can get right to the good stuff and not waste time on forms, I prefer that you fill out the email-requested forms and email them back to me before your appointment.
For this physically present service, we will meet and discuss what your needs are. The nano wand has a wide variety of benefits and uses which I can tell you all about.
I will use the wand in the places we have discussed which usually takes but a few minutes. You may feel the difference right away (some clients' pain disappears right away) or your body may take its processing time to take effect.
Depending on your needs, we can discuss whether you'd like to get a wand for your home use and can teach you how to use it.
Then the session is done. We can schedule another visit for when it is convenient for of us.
Disclaimer
Nano Wand work is not a substitute for professional advice or treatment. If you are concerned about your health please seek medical advice from your medical provider. Energy healing promotes harmony and balance within, relieves stress and supports the body's natural ability to heal. Energy healing is widely recognized as a valuable and effective compliment to conventional medical care.